Windy Wool Windings ~

Est. 2007~

Dedicated to producing and raising sheep with high-quality wool and meat- naturally and sustainably.
 Learn more about how we came to be! Check out this documentary about Windy Wool Windings, by Michelle Bernard.
Our Farm: A Family Tradition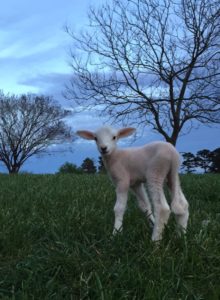 Windy Wool Windings is a subsidiary operation of Sunny Hill Farm, our third-generation family farm in Vale, North Carolina. We raise dairy cattle, poultry, field crops and sheep, which keep us busy year-round.
Our sheep are Montadale and Romeldale/CVM. The flock is raised primarily on an intensive grass grazing programs. Most of our supplemental grain and hay fed to the sheep are also grown on our farm.
We sell wool and meat from our sheep on the farm, at local farmers markets, fiber festivals as well as online via our Etsy store. Our production and market areas are expanding every year. Our raw wool is sold direct-to-consumer as well as being sent to fiber processing facilities to be processed into roving and finished yarns for sale. Annually, we attend fiber festivals throughout the Eastern shore, including the Maryland Sheep and Fiber Festival in West Friendship Maryland and the Southeastern Animal Fiber Festival in Asheville, NC. Fleeces produced by Windy Wool Windings have won multiple Grand Champion and Reserve Grand Champion awards including the North Carolina Mountain State Fair, Southeastern Animal Fiber Festival and Maryland Sheep and Wool Festival.
About Our Wool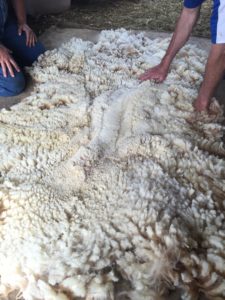 Montadale sheep were created in the U.S. by R.H Matting during the 1950's. They were a cross of North Country Cheviot rams with Columbia ewes. Montadales have a very white fleece that is lower in lanolin than most fine/medium wools. It has a very springy handle that makes it a great spinning yarn as well as wonderful for blending with wools, such as alpaca and llama, that are low in memory. The breed also occasionally produces black sheep, ranging in color from the rare true black to pale pewter, with every gradient of gray in between. The wonderful crystal white color of the Montadale can be dyed to create a very clear, rich color.
In our breeding program, we are using a Montadale ram with a fiber micron count of 30.4, and daughters with fiber micron counts of 27.0. The breed average for Montadale sheep is 56-60 microns. Our goal is to produce Montadales with averages between 25 and 30 fiber microns.
We also raise Romeldale/CVM sheep, another breed created in the U.S. While smaller in size than the Montadale, they have a wider range of color and a lower micron count making them an excellent spinning fleece. The many Romeldale natural colors can be blended with other natural fibers to create a large palette of natural colored yarns.
About Susan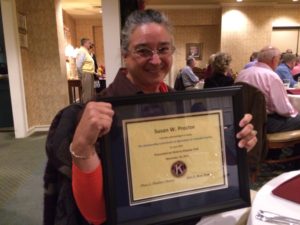 Windy Wool Windings, est. 2007, started with two sheep and a life-long dream. Susan Waldroop Proctor, founder and owner, has been farming her whole life, but she always knew she had a passion for sheep and fiber arts. With two grown kids and the family's dairy farm continuing into the third generation, it was Susan's turn to make her dreams come true. Susan has committed Windy Wool Windings to raising Montadale and Romeldale CVM sheep with high-quality wool and meat naturally and sustainably in Western North Carolina, an area not historically known for fiber or sheep production. Today, Windy Wool Windings is a thriving sheep production operation that celebrates full-circle-utilization of the sheep through year-round grazing, fleece marketing and humanely raised lamb and mutton product sales. Susan has spent her life as an agricultural advocate and educator, and was the recipient of the 2015 Kiwanis Agricultural Educator of the Year award, is President of the North Carolina Sheep Producers Association and an Executive Board Member of the national Montadale Sheep Breeders Association.
From Susan: "Sheep and fiber production has been a life-long dream and passion. I enjoy spinning and dying wool from my sheep to create both yarns and woven projects. While spinning and hand-processing the wool is my favorite, other favorite projects include making hats and shawls with my own color blend choices.
I also serve on multiple sheep and fiber producers' organizations to help promote and expand sheep production locally and nationally. In addition to being a sheep and fiber producer, I am proud to be a native of Western North Carolina, a farmer, farm wife and farm mom."
Products
Visit Our Products page to shop these and more:
Wool
Commercially-spun yarns
Natural Colored and dyed yarns
Raw Fleeces- White and Colored
Roving for spinning & needle felting
Combtop
Naturally Raised, Grass-based Lamb & Mutton
Leg of lamb roasts & Shanks
Stew & Ground
Rack of lamb
Rib, loin and shoulder chops
Breakfast and kielbasa sausages
Organs and Other cuts by request
Handmade Wool Garments and Gift Ideas
Dryer balls
Hats
Shawls
Scarves
Blankets
And more!
Grand Champion Stock
Breeding animals available annually by early request. Supply is limited. Call today!