For more recent updates and news posts, check us out on Facebook @windywoolwindings
---
2020 Maryland Sheep and Wool Festival Online!
With COVID-19 cancelling most events everywhere, our world is rapidly going online! The 2020 Maryland Sheep and Wool Fiber Festival in West Friendship, Maryland is no exception. Starting Friday, May 02 the annual fleece sale will go live. Links to vendors' online stores will be available for viewing and purchases. In efforts to help the festival recover from the economic loss due to cancellation, Windy Wool Windings will be donating 10% of fleeces linked to the sale to help with recovery efforts. Our online store is up and ready! Click here to view our entries! If you are part of the breed conservation program "Shave 'em to Save 'em", check our listings for our Romeldale-CVM fleeces. We have some of the best fleeces this year that we've ever had and, though disappointing to not be showing them in person, we are still excited to share them with fellow fiber fans. #mdsw2020 #virtualonlinewoolfestival
---
2019 SAFF was a Supreme Success!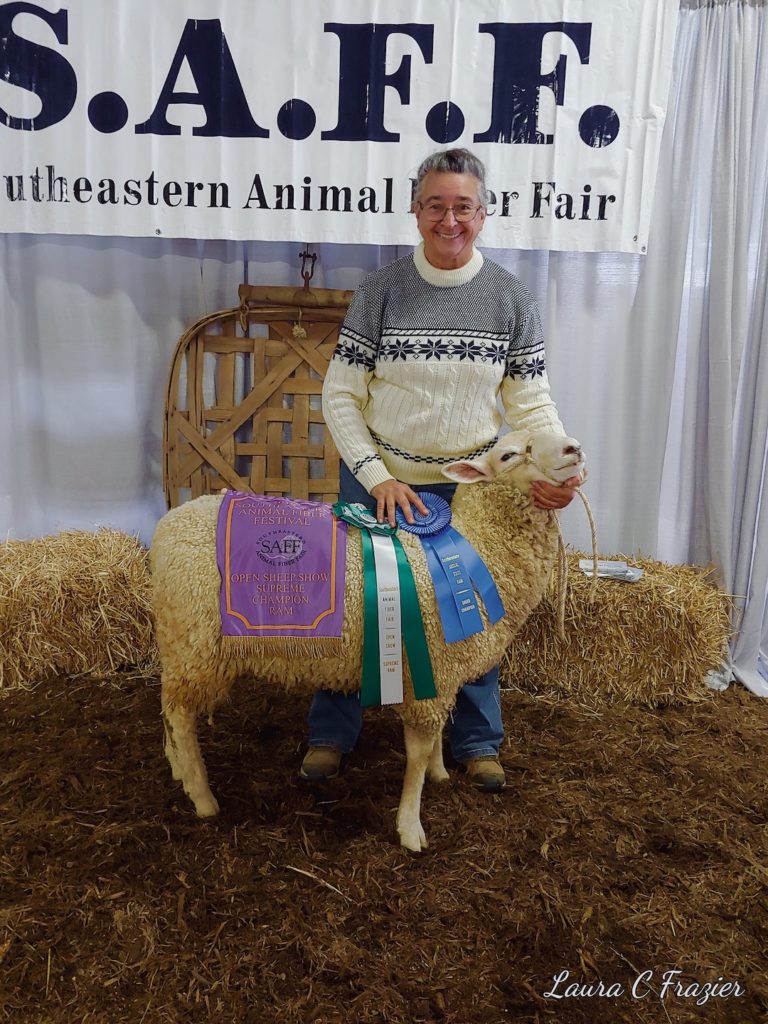 Great weekend at SAFF. Despite the last minute shuffling of vendor and livestock locations due to issues with the facility, SAFF was again a great place to spend the weekend. It was wonderful seeing friends that I only see once a year. The fleece show and sale went well despite rainy weather. We had 1st place fine white wool fleece and second place fine natural colored fleece. Our Montadale ram lamb was awarded 1st place white fine wool ram and Supreme Ram of the show. I'm still not sure I didn't dream that one!! Our Montadale ewe lamb was awarded the breed championship for fine white wool breeds. I hope everyone got home safe and am looking forward to next year!
---
2019 NC Sheep Producers Association Annual Meeting
Join other sheep producers SATURDAY Dec 7, 2019 for a fun day of fellowship and education! Bring the whole family and invite friends- you don't have to be a member to attend. $10 per person or $20 per family- cost covers refreshments and lunch. Click the link below to learn more and register by December 01!

Location: Piedmont Custom Meats, 430 NC HWY 49 South, Asheboro, NC 27205